Bashley girls and boys U9 team have fun in the sun with Lymington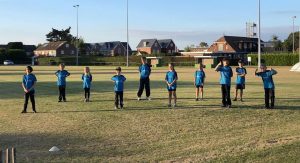 Bashley U9s girls and boys visited Lymington in one of the first official fixtures of the cricket season.  Everyone was so super keen to play cricket that a 10-a-side pairs game was possible.  Bashley skipper Max Pletzer won the toss and elected to bat on this glorious evening.  Bashley pair of Sim Sekhon (18) and Matt Worsfold (9) got off to a flyer with Bashley on 228 after the first 4 overs.  The middle overs ebbed and flowed like a test match, Lymington battling hard with bowlers F Naylor (3 wickets) and Chapman restricting the run rate.  Bashley showed good skills to sneak plenty of singles to keep the scoreboard ticking, with great running from Samuel Courts. The final batting pair of Daniel Manning (21) and Max Pletzer (15) injected runs quickly with a flurry of boundaries, finishing on 302.  Lymington then batted bravely, with Bruno and Otto shaking off body blows with solid fortitude and large grins.  Lymington were rather unlucky to play five wonderful shots, but to have all five caught.  Bashley's fielding and catching was probably the highlight of the game, with every catch taken.  Bashley's girls them excelled in the field, with 8 wickets between Evie Hayward (5), Emily Lewis (2) and Ellie Courts (1).  The rest of the wickets were spread around with Oliver England and Toby Bollard also snaffling a wicket a piece.  Lymington's last batting pair batted with some flair and put on 28 runs, including several beautiful pulls shots off pace bowling, to finish on 229.
It was a wonderful evening of cricket, with both sides enjoying themselves and parents able to enjoy the hospitality of Lymington's bar.