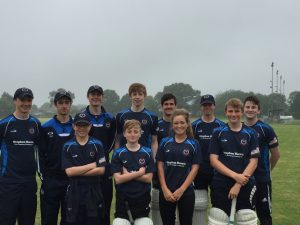 Bashley U19 started their U19 T20 season with an away fixture at Fawley on Bank Holiday Monday. Despite the damp conditions under-foot, and the uncertain forecast, the match started on time with Bashley in the field. Bashley's bowlers kept the Fawley openers run rate restricted until the first wicket fell in the 6th over. The Umpires and the players battled on against the weather, until the drizzle became rain, forcing an interval of around 20min. Returning to the field, Fawley saw the fall of 7 wickets in the final 5 overs – Sam Presland dismissed 2 batsmen in his 1st over, and continued to weave his magic finishing 5 wickets for 6 runs off 3 overs. Tom Harris took 2 wickets and a catch from James Gaunt, with Fawley finishing 78 for 9 from 20 overs.
In reply, the Bashley openers also found runs hard to come by. Fawley's opening bowlers, Alex Forster and Matt Forster kept the run rate on par with the first innings. With the bowling change to Ali Bryers, Bashley batsmen were still restricted and wickets started to fall.  James Gaunt (23no) and Jack Harris ( 13no) started to find the boundaries and took some risks to push the score on, and the target was  reached  in the 17th over with James Gaunt hitting a 6 to take the final score to 81/3
Full credit to both teams for their bowling, and for persevering to achieve a result in fairly dreary weather conditions
Bashley U19 will be in action again next Sunday, 3pm with a home match at the BCG.