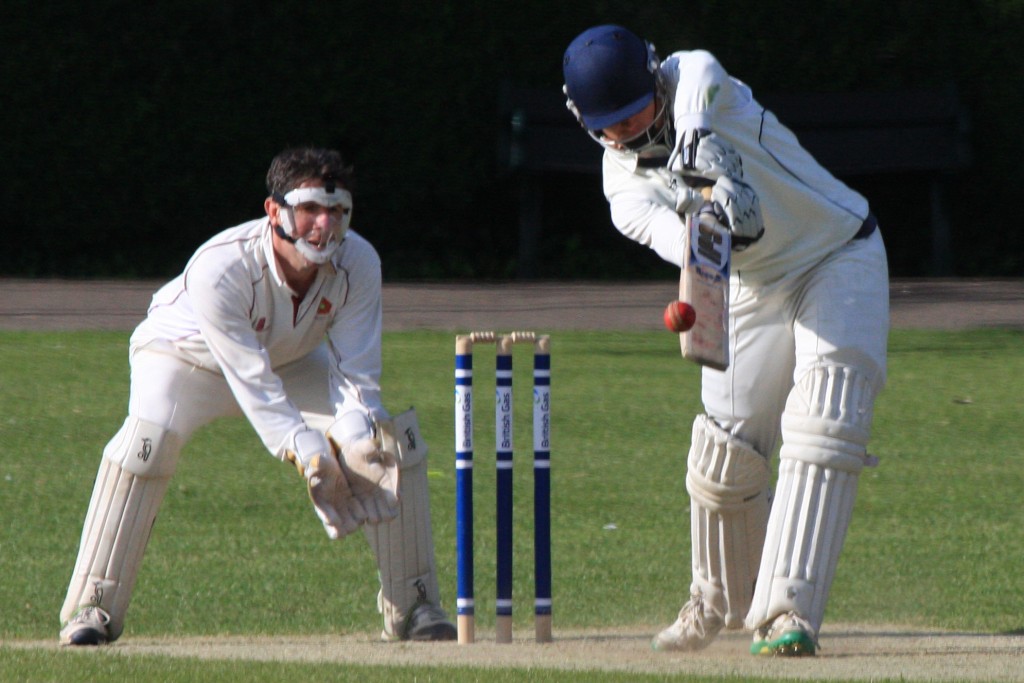 Bashley captain Michael Porter who was top scorer with 63 off 54 balls
Bashley (Rydal) travelled to a sun drenched Havant Park where on winning the toss the Havant captain, Ben Walker, elected to bat first and with his opening partner, Peter Hopson, built a solid platform from which his side could then accelerate. This they did by making the most of the vast outfield and running well punctuated by putting any loose delivery to the boundary, off spinner Simon Watkins was introduced into the attack and with the total on 131 trapped Walker lbw for 64, Chris Stone joined Hopson and scored a rapid 25 off 18 balls when he was well caught in the deep by Tom Gates off the the bowling of Sam Thomson (1-49) and the total was 163-2, 6 runs later Hopson was bowled by Watkins(2-63) for 63. A run a ball partnership of 81 between Andy Gorvin (44) and Stuart Ransley (46) was ended when Andy Neal (2-32) bowled Ransley quickly followed by Gorvin being bowled by Gavin Baiiff (1-55) and the score was 254-5. R. Hindley (10 n.o.) together with J. Bulled (16) then took the Havant innings to 281-6 from their 50 overs.
The Bashley opening pair of Neil Thurgood and Tom Gates were parted with the score on 19 when Thurgood was adjudged lbw off a slower delivery by B. Walker for 9 but Tom Jacques with Gates took the total onto 61 when Gates was caught by Hindley off medium pacer Andy Gorvin for 25. Jacques was the next to be out , caught and bowled by Ransley for 31 with the total on 77-3 but a partnership between Michael Porter and Gavin Bailiff gave the Bashley followers hope as they scored at run a ball but after a 89 run stand Bailiff was caught by Walker off the left arm spin of T. vanderslik for 36 with 166 on the board. The very next ball Porter drove the ball straight back and Vanderslik diverted the ball on to the stumps and the unfortunate S. Watkins was run out. Porter then fell lbw to Hindley (3-31) for a splendid 63 and apart from a breezy 17 from Chris Ridley the innings closed on 211 to leave Havant worthy winners by 70 runs.