Bashley 3rd team, hosting keen local rivals Mudeford 1st team, won the toss and elected to bat first on a warm sunny afternoon. By the 5th over they were in deep trouble at 3 for 2 as James Turner and Greg Harvard were both bowled by the accurate Mudeford opening bowling attack. Luke Stubbington and Ryan Taylor then batted cautiously to try and steady the ship. They batted well together and seemed to have weathered the storm. However, when Stubbington was caught for 25 and Taylor LBW for 28 soon afterwards, Bashley were back in trouble at 61 for 4 after 27 overs. Michael O'Sullivan then started a Bashley fight back as he went on the attack against all the Mudeford bowlers'. In an excellent, controlled innings of 70, with 8 fours and 2 sixes, he was eventually out in the final over. He received good support at the other end from Graham Pardey (15), Marcus Lewis (13) and Sam Scott (15), to ensure that Bashley finished with a competitive 176 for 9 after their 45 overs.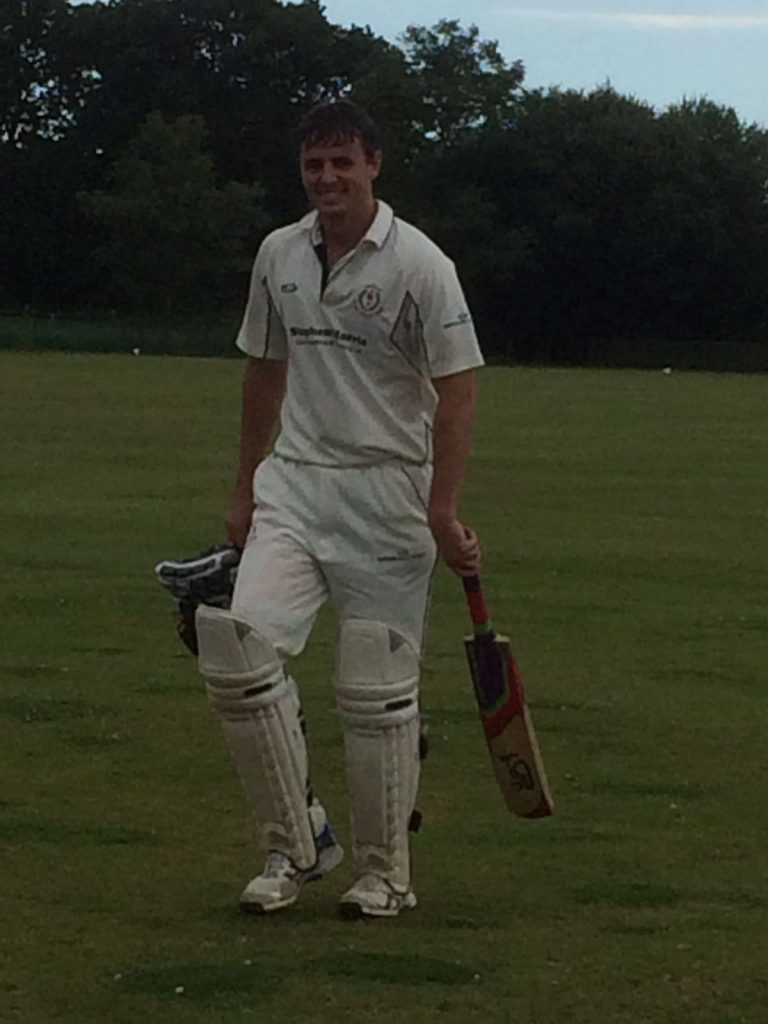 Mike O'Sullivan – 70 runs
After tea, Bashley made a great start when Sammy Laurent bowled the Mudeford skipper Harris with his first ball. However, 13 wides in the next four overs released the pressure as the Bashley opening bowlers struggled to control the new ball. Mudeford's score had reached 50 before James Edmonds (1 for 31) returned to the attack to dismiss Jake Smith for 26.Mudeford continued to score freely and had reached 84 after 16 overs before Scott (1 for 37) bowled Balthune for 25. Young Sam Presland (1 for 21) dismissed Gardener for 34 and Michael O'Sullivan (1 for 28) had Anderson caught behind for 18 as Bashley slowed the scoring rate. Sammy Laurent (3 for 29) returned to take two late wickets, but Mudeford's victory target was now in sight.  Harry Smith (32 not out) batted well at the finish for Mudeford, to eventually take them to a three wicket victory with 3 overs to spare in a well contested match.