Sway won the toss and asked Bashley to bat at Pennington on Saturday.  In a high scoring game, notable for two big partnerships, Bashley came out on top with a good bowling display under pressure.  They started well with an opening partnership of 125, in 24 overs, thanks to the experience of Ian Britton (68).  He was largely responsible for the rapid scoring rate which allowed 15 year old Tom Hayward-Cox to settle in and then move steadily towards a maiden century.  When Tom was finally out in the 36th over he had accelerated rapidly to 117, including 2 sixes and 19 fours, and he was dropped before he had scored !  Kris Laurent (24 in 12 balls) saw Bashley score 32 in the last three overs to close on 263-3.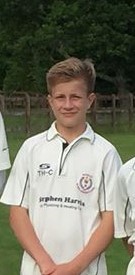 Tom Haywood-Cox – 117 runs
Dan Hart and, debutant, Hars Kumar then reduced Sway to 43-3 in the tenth over but if Bash thought that they were "home and dry" then they were to be disappointed.  H Cavanagh and N Brien, dealing almost entirely in boundaries, shared a partnership of 122 in just 15 overs and left Sway needing 100 in 18 overs to win with 7 wickets in hand.  However the game then turned back towards Bashley when Chloe-Ann Anderson took a brilliant catch to dismiss Brien.  Thereafter Cavanagh   tried hard to maintain the strike as wickets started to fall at the other end.  Eventually, with 50 needed off the last 7 overs, he was run out for 137 (116 in boundaries) by a smart piece of fielding by Joel Hood and Sway closed on 222 with 4 overs unused.  The pick of the bowlers were Hart with 3-39 and, the miserly, Kumar who bowled 7 overs 1 for 18 amid all the carnage wrecked by Cavanagh.