Bashley 5ths: 264 – 9 , Mudeford 3rds: 60 all out
The sun and runs were out to greet Bashley 5ths in their first game of the season.  Bashley loss the toss and were put into bat.  Pete Stallwood (35) and James Walker (43) set the tone right from the start, with 60 coming from the first 6 overs, despite some probing left arm around bowling from Mudeford's Joe Bentley. The first of three U13 debutants, Archie McFarlane, came in at number 4 and kept the innings ticking along at a fast rate with 18.  The U13 juniors looked accomplished cricketers, with Thomas Manning hitting a quick 20 and Sam Davies (7) steadily supporting the experienced middle order of Martin Hayward-Cox (26) and Jon Courts (40).     Bashley finished their innings strong, plundering 33 off the last two overs.
The Bashley bowling was opened up by U13 Sam Davies, with his father Neil behind the stumps.  At the other end U13 Archie McFarlane formed the opening bowling partnership.   Both juniors bowled great areas, despite playing on a full 22 yards, and earned themselves a wicket a piece removing both Mudeford openers.  The change bowlers continued the progression of wickets, with the third U13 Thomas Manning continuing the family combinations by getting the No.3 bat caught at wide mid-off by his father, Keith.  Thomas bowled with great flight and variations, the batsman continually failing to pick the googlie.  The spin continued with the introduction of fourth junior Joe Hishon, who found considerable turn and snaffle himself a wicket, but it could have been more.  Then enter Man of the Match Jon Courts, who followed up with his 40 with the bat with four wickets to rip out the lower order.   It was a memorable day for all four Bashley juniors, with everyone of them getting a wicket, plenty of junior runs, a great catch by Sam Davies and an accurate runout by Archie McFarlane.   The Dads did pretty well as well.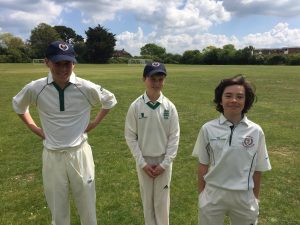 Bashley U13s make their Senior Debut: Archie McFarlane, Thomas Manning & Sam Davies