Bashley 3rds welcomed Suttoners 1st team on another weekend of glorious sunshine and on winning the toss, had no hesitation in batting first.
Despite the loss of an early wicket, Bashley got off to an excellent start through Tom O'Sullivan and Graham Pardey until O'Sullivan was caught for a quick fire 44. Pardey continued to look untroubled  and found mid innings support from Arno Hattingh (17) and Michael O'Sullivan (30) as Bashley continued to build an impressive total. Pardey required the assistance of a runner as he damaged his ankle but he continued to punish the Suttoner's attack. Late order flourishes from Sam Scott (14) and James Edmonds (22) maintained the momentum as Pardey reached his deserved century with his 12th boundary in an excellent innings of 105 not out. This enabled Bashley to reach a formidable 266 for 7 after their 45 overs.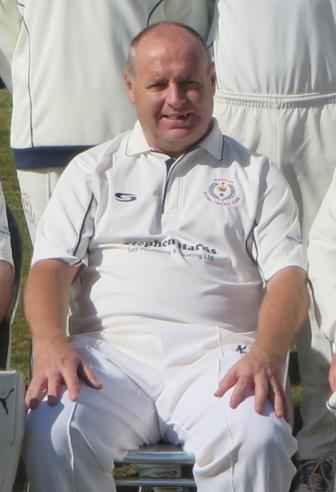 Graham Pardey – 105 not out
After tea, Suttoners started their innings cautiously against the accurate Bashley bowling attack. Wickets were hard to come by but there was a deserved wicket a piece for Sean Read (1 for 20), James Edmonds (1 for 13) and Tom Harris (1 for 24). Suttoners had reached 84 for 3 after 22 overs with useful knocks from Clifford (22) and Schulkins (24).Young Toby Mills (4 for 22) and Michael O'Sullivan (3 for 4) then proceeded to quickly run through the rest of the Suttoners batting order with the last 7 wickets falling in just 8 overs. This left Suttoners all out for 104 and Bashley, with an excellent all round team performance, as comfortable winners by 162 runs.