Take 6 players, from 3 New Forest Clubs and add them to the East Dorset U14 indoor league.
Then for good measure, and a bit of a challenge, add them to the U15 league too.
11 Matches between September 2016 and March 2017, 10 wins
U14 Division 1 winners, U15 Division 1 runners up
Huge congratulations to Jack Harris, Sam Presland & Toby Mills ( Bashley Rydal CC), Daniel & Joshua Bailey (Sway CC) and Joshua Royan ( Lymington CC) for your commanding performances in both leagues…. a true team effort. Thank you to Graham for organising, thank you to the parents who ensure that "the 6" are always available, and thank you to Cameron & Joe for filling in at late notice  where injury prevented 1 of the 6 from playing in the last 2 matches.
Final U14 match to clinch the U14 title: Bashley 153 for 4, Parley Panthers 119 all out
Wishing Josh Bailey a speedy recovery
.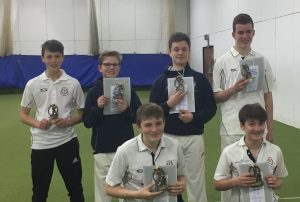 J. Roberts, Sam Presland, Joshua Royan, Daniel Bailey
Jack Harris, Toby Mills
(missing through injury: Joshua Bailey)