Bashley (Rydal) CC received two awards at the 2016 Southern Premier Cricket League awards Presentation evening at the Novotel Southampton.
First team captain Michael Porter received the Young Player of the Year award. Michael had an outstanding season in his first year as first team captain. He led Bashley to third place in the overall Premier division league table and they were also the winners of the timed pennant award. He made 613 runs in the season at an average of 61.3 and was second in the Premier division aggregate runs.
Michael Porter receiving his award from David Ridley                                            Representing Bashley 1st Team to receive the timed pennant:
Jake Lilley, Sam Thomson, Michael Porter, Tom Gates, Josh Digby
Bashley was also honoured to receive the prestigious Ground of the Year award. This was in recognition of the outstanding work of its groundsmen John Neal, Steve Harris, Geoff Plummer, Brian Pardey and Terry Nash. They have worked hard to maintain such high standards that the ground is constantly in demand for many prestigious matches.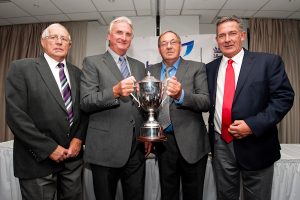 Brian Pardey, John Neal, Terry Nash and Steve Harris
Very well done all !