On their penultimate game of the indoor season, Bashley Broncos 'B' faced Hinton Admiral 'A' in a game that had a massive impact on the top of Division 2. Hinton Admiral won the toss and elected to bowl first. Mike O'Sullivan and Josh Digby (14) made a steady start to the Bashley innings putting on 29 for the opening stand. Ryan Taylor (8) kept the scoreboard ticking over but the Hinton bowlers kept it tight during the middle overs. Bashley finished strong scoring 62 runs off the final 4 overs thanks to Sam Scott (29 not out), James Edmunds (20) and Mike O'Sullivan returning after retiring to make a very impressive 52 not out. Bashley finished on 140-4 from their 12 overs.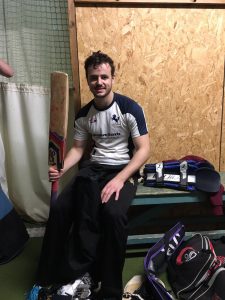 In response, Hinton got off to a poor start losing a wicket to a run out in the first over and only scoring 5 runs. However, things could have been a lot worse. If you bump into Josh Digby in the near future, please ask him about his fielding display! Bashley continued to take regular wickets throughout the innings with Hinton eventually being bowled out for 80 half way through the 8th over. James Edmunds returned outstanding figures of 3-0-16-1 with the other wickets falling to Jason Eede (2-0-23-1), Sam Scott (0.3-0-5-1) and a few run outs.
This impressive victory leaves Bashley at the top of Division 2 with only one game remaining against Royal Challenger Sports on Sunday 30th April at 6.30pm.
| | | | | | |
| --- | --- | --- | --- | --- | --- |
| SUNDAY DIVISION 2 | Pld | Won | Lost | Runs/Wkts | Pts |
| Bashley Broncos B | 7 | 6 | 1 | 46.83 | 134 |
| Verwood A | 7 | 6 | 1 | 43.91 | 129 |
| Hinton Admiral A | 7 | 5 | 2 | 39.86 | 120 |
| Ellingham | 8 | 3 | 5 | 33.5 | 88 |
| Parley B | 5 | 4 | 1 | 34.05 | 86 |
| Royal Challengers Sports | 6 | 3 | 3 | 27.16 | 77 |
| St Georges | 6 | 2 | 4 | 31.33 | 61 |
| Bransgore | 6 | 0 | 6 | 18.24 | 26 |
| Ringwood Rhinos | 6 | 0 | 6 | 26.72 | 22 |