Bashley (Rydal) 3rds 177 for 9
US Portsmouth 1st 159 all out
Bashley 3rds won the toss and elected to bat first against a strong United Services Portsmouth 1st team. Openers Mike O'Sullivan and Tom Saunders started well against an accurate bowling attack. They put on 42 together when Saunders was caught in the deep for 15. Scoring then became difficult and further wickets fell quickly. O'Sullivan was caught behind for 26 and Jack Harris caught for 10 to leave Bashley at 71 for 5 after 23 overs. Sam Scott and Saif Achakazai produced a valuable 63 run partnership with Achakazai scoring freely until he was caught for 42. Two more wickets quickly followed before Scott was caught for 28. A useful last wicket partnership between Tom Harris (10 not out) and Toby Mills (9 not out) took Bashley to 177 for 9 after their 45 overs.
After tea, the Bashley opening bowlers Tom Harris ((0 for 16) and Dan Hart (2 for 14) bowled with great pace and accuracy. The US batsmen found scoring difficult and were 42 for 2 after 14 overs. Change bowlers Mike O'Sullivan (1 for 33) and Tom Saunders (1 for 33) ensured that there was no relief. They maintained the pressure to leave US well behind the required rate at 92 for 4 after 28 overs. As the batsmen tried to increase the run rate, Toby Mills (4 for22) and Sam Scott (2 for 23) regularly picked up wickets. They ran through the rest of the batting to leave Bashley as the winners of an excellent match by 18 runs in the penultimate over.
For Bashley, wicket keeper Chris Gates celebrated the wonderful achievement of his 500th match for the club with another excellent performance and 4 catches behind the stumps.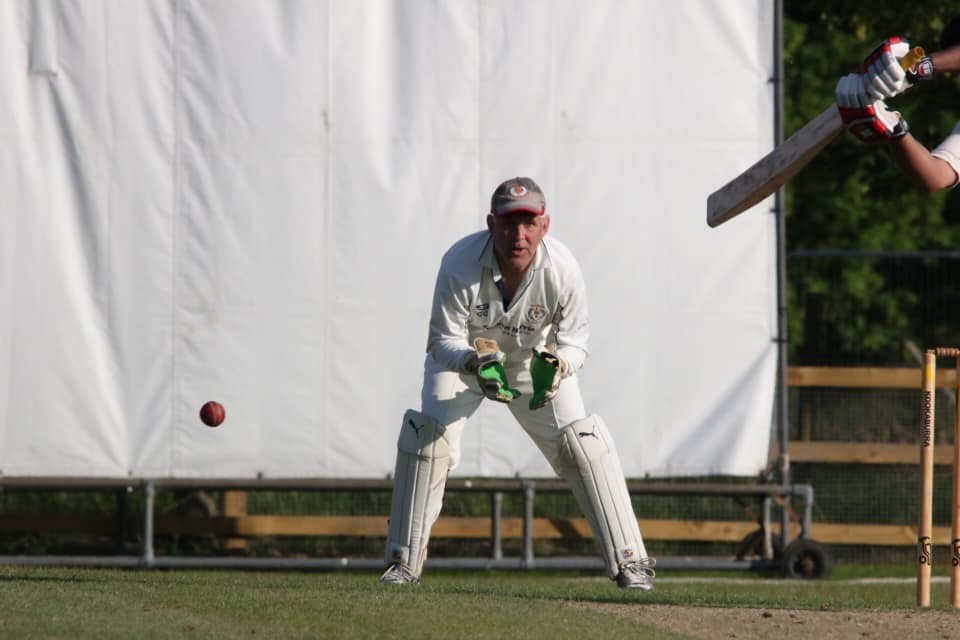 Chris Gates – 500th game for Bashley