In overcast conditions, Bashley 3rds won the toss and asked Follands to bat first.
After a steady start by Follands Sean Read made the initial break through and then wickets fell regularly as Harry Walton (2 for 18) and Sam Scott (3 for 37) tore through the upper batting order. After 19 overs, Follands were struggling at 66 for 6 but Walton had strained his side and had to come off after just four overs. Milward and Amadeep then batted steadily until Milward (27) was well caught by Saunders off Nick Clark (1 for 32). Young Toby Mills (0 for 34) and Tom Saunders (0 for 24) both bowled well but without reward as Follands mounted a spirited recovery. Amadeep (58) was eventually bowled by Sean Read (2 for 40) but Hannah (31 not out) continued the resistance as Follands recovered to post a challenging 194 for 9 after their 45 overs.
After tea, Bashley were soon in trouble and lost two early wickets to Folland's aggressive opening bowler Proctor. Tom O'Sullivan was batting well and hit five 4s and 2 sixes until he was caught for 42. Harry Walton was trapped LBW for a patient 18 and Sam Scott looked in good touch until he was caught for 18. Skipper Michael O'Sullivan and Chris Gates seemed to be taking Bashley to a comfortable victory when O'Sullivan was caught for a well made 42 and immediately afterwards Gates was bowled for 14. At 150 for 7 the game was again evenly balanced. However young Tom Saunders (36 not out) and Nick Clark (9 not out) quickly took the game out of Folland's reach. Saunders was especially aggressive as he struck a six and 5 fours in a tremendous late cameo of an innings to take Bashley to victory with four overs to spare.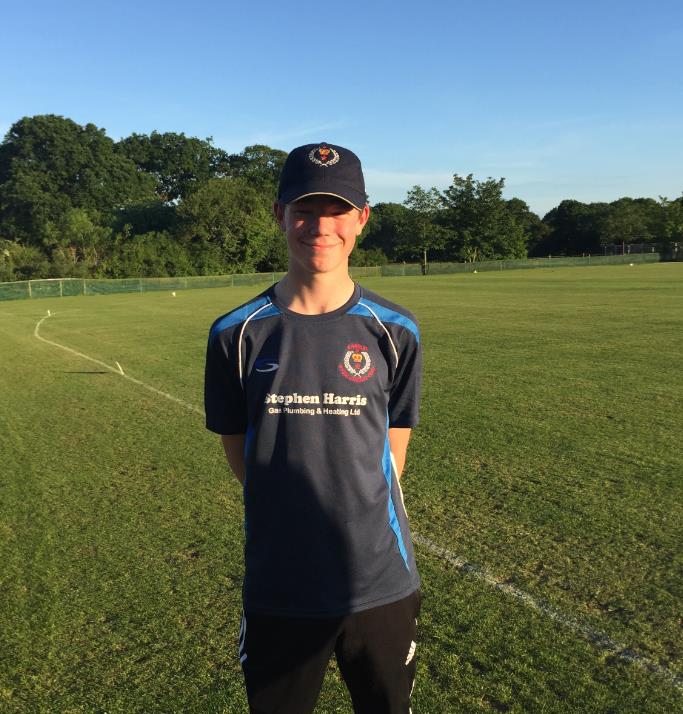 Tom Saunders – 36 not out