Bashley 193-9 (50)
Gosport Borough 191 ao (46)
Bashley II's were looking to avoid a third straight defeat against Gosport. With Phil Morris on first team duty and absences from Pierre Van Wyk and Ben Nolan-Stone this gave an opportunity to Tom O'sullivan, Sam Scott and Sammy Laurent after recent form in the third team.
T. O'sullivan (25) and J Van Wyk (16) set off the innings well. With pair finding the boundaries 9 times in the first ten overs. Bashley looked to have started well however both fell quickly with the score at 50-2 off 10. With in form Anstee (3) failing cheaply Patrick Lewis (25) and Andy Neal (37) set about building a partnership worth 50 runs seeing off some good bowling from the Gosport attack. The partnership was broken at 106-4 when Lewis was bowled by Simon Creale who finished with impressive figures of 10-4-18-3. Wickets fell quickly and cheaply through several poor run outs until Neil Taylor (27*) and Sammy Laurent (11*) saw off the returning bowlers finding the boundary consistently within the final 5 overs. The pair bought the innings to a close at 193-9.
Gosport got off to a steady start and were finding the boundary regularly. Neal struck first clean bowling Harrop for 3. Wickets fell at regular intervals through the first 25 overs Lilley, Grierson and Taylor all claiming wickets. With resistance from Gosports Regan (32*) the result seemed to in the balance going into the final ten overs thanks to tight spells from all the Bashley spinners, backed up with sharp fielding within the middle overs. Gosport looked within sights of the win with 2 runs needed with two wickets in hand. Lilley returned well dismissing the final two wickets within 3 balls to secure a tight win for Bashley.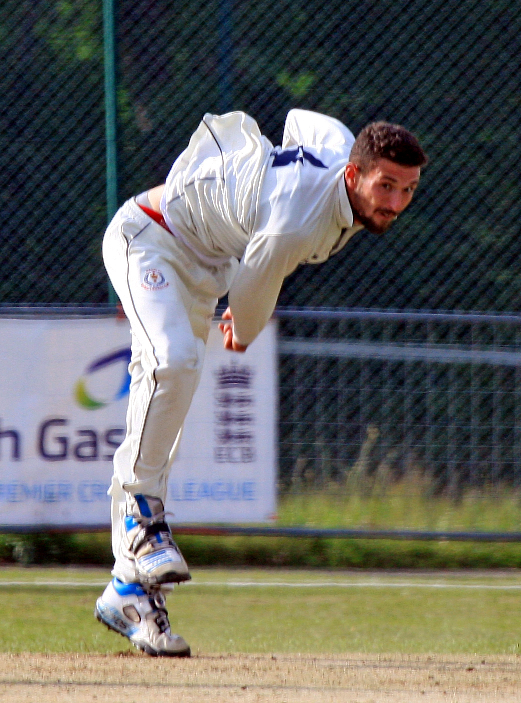 Jake Lilley – 3 wickets
Bashley face Purbrook at the BCG this Saturday.