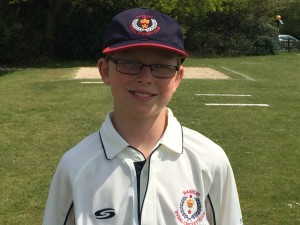 U13 Man of the Match : Sam Presland, 3 overs, 3 wickets for 8 runs and batting score of 29.
Bashley's U13 started the season with a win away at Sway on Thursday evening. With 5 players between these 2 teams playing as our highly successful indoor cricket team – this match was full of friendly rivalry and banter ! In the field Bashley put on an excellent performance, with some economic bowling, some great catches, and 2 stumpings from J. Harris behind the wicket. Sway's Josh Bailey retired on 30, with Sway's total 89/6 at the end.
In reply, Bashley's openers J. Harris ( retired 30) and S. Presland ( 29) set about chasing the target, and some equally economic bowling from the Bailey brothers plus fading light slowed the progression of runs. T. Mills (10 n.o) eventually found the opportunity to score the winning run taking Bashley to 90, with 9 balls to spare and semi-darkness !
Great team performance all round from everyone