A new course of our highly popular indoor coaching courses for girls and boys in under 9 and  under 11 age groups run by Bashley (Rydal) Junior Cricket is starting soon at Ballard School, New Milton.
All beginners, club members and members of other clubs are welcome.
Under 9s & Under 11s    Saturdays 5.00 – 6.30pm  starting 14th January 2017
14th, 21st, 28th January , 4th & 11th February           
4th, 11th, 18th & 25th Mar, 1st Apr
No sessions during the school half term  or Easter Holiday.
The cost of each half term will be £25 (or £5 per session) for club members or pupils at the Ballard School and £30 for non-members (or £6 per session)
All courses will be supervised by ECB qualified and CRB checked coaches
Under 13s:    Mondays 6.30 – 8pm  starting January ( date TBC)
Under 15s:    Thursdays 6.30 – 8pm, start date to be confirmed
Members are also asked to renew their 2017 annual subscription prior to the course:
U9 £20            U11/13/girls £25        U15 £30
The annual subscription fee includes social club membership and outdoor summer coaching (Easter onwards). Membership forms can be downloaded from the Bashley website following the junior cricket membership link.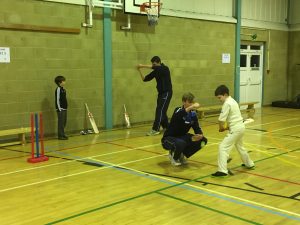 Junior Training from Jan 2016
If you would like more information please telephone Di Harris on 01425 611676