Brian Pardey of Bashley (Rydal) CC was recently presented with the Hampshire Cricket Board's Lifetime Achiever award at the Nat West OSCAS Presentation ceremony at the Ageas Bowl.
For the past 50 years Brian has been an outstanding servant and a driving force behind the development and success of the club.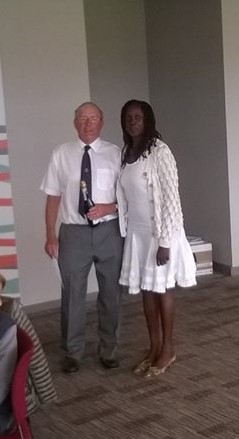 Brian first played for Rydal CC in 1966 and captained the side for several years in the early 1970s. He was then part of a team that organised and undertook the move of the Rydal cricket club to the current ground at Bashley.
Brian organised many fund raising events and ran the 200 club to raise funds for the current pavilion. He managed to play a few overs in the first ever cricket match at the new ground but due to a deteriorating hip he was unable to compete in a competitive match at the new ground. However he carried on fund raising and helping out with work at the club and was Chairman of Bashley CC for 15 years.
Brian then qualified as a South Coast panel umpire, and officiated in this role for 12 years. For the past 11 years Brian has been cutting the outfield and helping to maintain it in its excellent condition and on Saturdays he helps his wife Georgie with excellent teas for the club.