Bashley won the toss and chose to bat against Langley Manor.   Runs were difficult to come by, if the bowlers bowled straight, and Bashley's half way score of 89 – 1 was partly due to the experienced duo of Ian Britton and Joe Edmunds and partly due to the generosity of the Langley bowlers (17 wides or no balls at this stage).  The outstanding bowler in the opening exchanges was Langley's Ladies' captain Paige Bailey, with figures of 6-1-12-0.  With Britton (41) and Edmunds (25) both out then the younger pair of Pete Wedge (32), dropped before he scored, and Kris Laurent (42) decided that the ariel route was the way to go.  With the help of yet more wides and no balls Bash closed on 207-9, with V Murray picking up 3 cheap wickets at the end.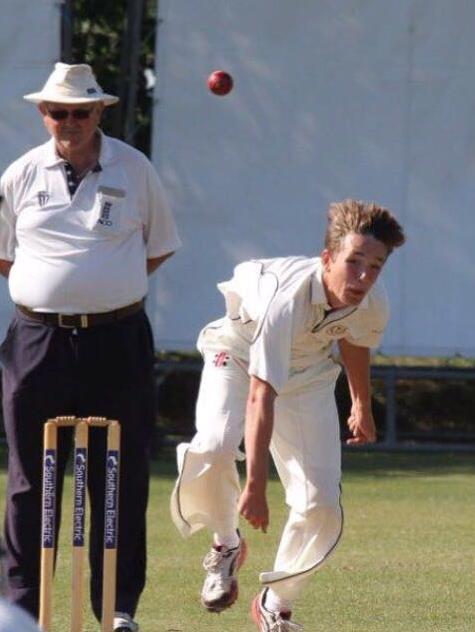 Kris Laurent – 42 runs and 3 wickets
In reply Langley found the going much tougher as Bashley's teenage attack bowled straight and let the wicket do the damage.   Wickets fell at regular intervals with two spectacular catches from Britton and, skipper Richard King, keeping Langley behind the clock.  The only real resistance came from Jack Payne, who batted responsibly from the 14th over through to the end, for 51, before being well caught by Dan Hart running backwards at mid on.  All the Bashley bowlers played their part with the wicket takers being Laurent 3-14, Joel Hood 3-18, Tom Hayward-Cox 2-11 with Hart and Chloe-Ann Anderson taking a wicket each.  The champagne moment being Anderson's first ball wicket, caught at cover by a swooping Charlie Prince.