Bashley (Rydal) 3rds 222 for 2
Calmore 2nds 218 for 9
In glorious sunshine, Bashley travelled to Calmore and on losing the toss were asked to bowl first.
Calmore started their innings well with opener Vann finding the boundary with increasing frequency and reached a promising 79 for 1 after 17 overs. Sam Scott (2 for 33) stemmed their progress with two wickets in an over including the dangerous Vann caught in the deep for 51.Tom Saunders (1 for 33) struck again soon afterwards to reduce Calmore to 90 for 4 after 24 overs. Tull and Perry then steadily rebuilt the Calmore innings with a patient 74 run partnership until Tull was caught for 36 off Louis Prichard (2 for 44). Tom Harris (3 for 44) bowled two excellent spells and had Perry caught for 36. Wickets continued to fall as Calmore looked to accelerate the scoring rate. Ted Bracey (1 for 28) took a wicket in the final over as Calmore finished on 218 for 9 after 45 overs.
After tea, the Bashley openers Paul Prichard and Tom Saunders started with positive intent. Prichard survived an early dropped chance to punish the Calmore bowling attack. With Bashley scoring freely, Calmore were soon on the defensive but they were unable to stem the onslaught. Prichard was eventually caught for an excellent 77 with Bashley in complete control at 164 for 1 in the 26th over. Saif Achakazai was caught for 10 but Tom Saunders continued to score freely and batted throughout the innings for a very accomplished 87 not out. Graham Pardey (15 not out) hit the winning runs as Bashley ran out the comfortable winners by 8 wickets with 9 overs to spare.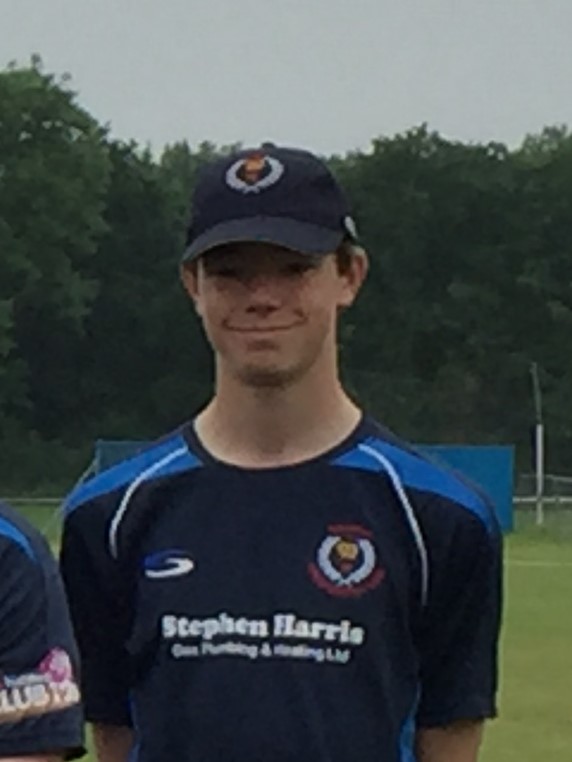 Tom Saunders – 87 not out
This ninth successive victory keeps Bashley at the top of County Division 3 South with just one match of the season remaining.