Bashley 3rd team, with six changes due to unavailability, produced an excellent all round team performance to comfortably beat Hayling Island 1st team.
Hayling Island won the toss and asked Bashley to bat first. Openers Ian Britton and Tom O'Sullivan started brightly and had raced to 71 off just 12 overs when Britton was bowled by Lever for 23. Graham Pardey and O'Sullvan maintained the pressure on the Hayling bowlers with well judged singles interspersed with boundary shots all round the ground. They had taken their partnership to 118 when Pardey was caught behind for an excellent 50. Soon afterwards, O'Sullivan was caught on the boundary for an impressive 101 off just 100 balls which put Bashley firmly in the ascendency. Dan Friedman (13), Simon Dean (35) and Tom Saunders (12) continued the assault in the latter stages as Bashley pushed their total up to a challenging 258 for 6 at the end of their 45 overs.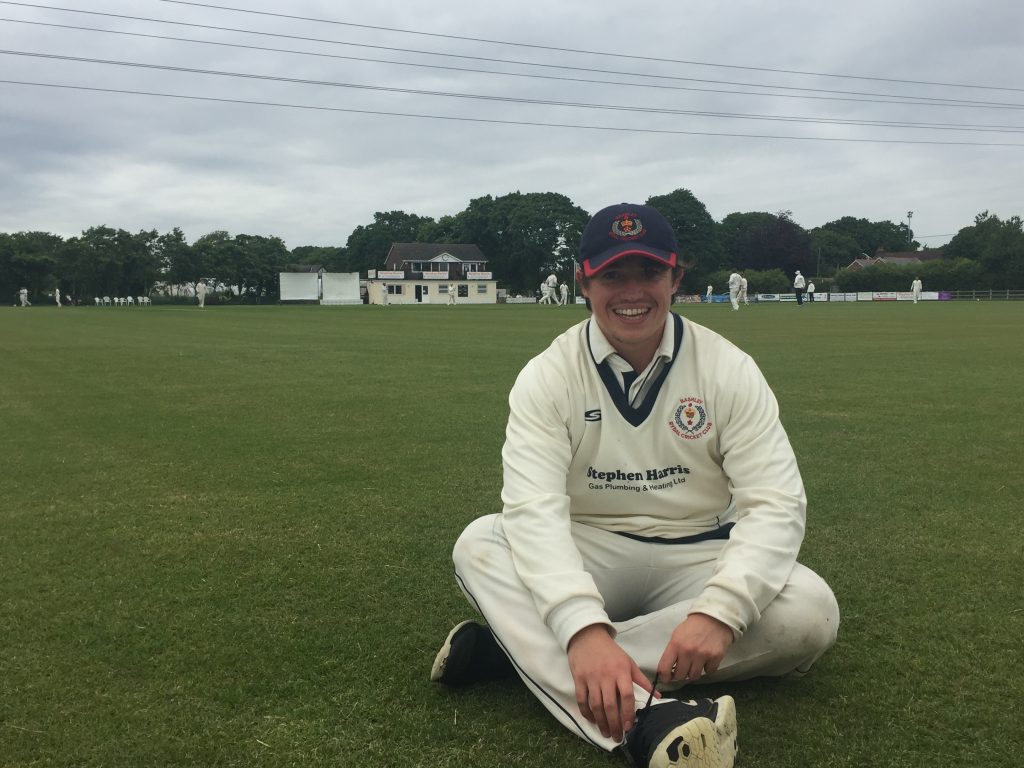 Tom O'Sullivan – 101 runs
After tea, Bashley made immediate inroads as James Edmonds (2 for 4) dismissed both Hayling openers in an impressive first 3 overs. Unfortunately he then had to retire with a groin strain and was unable to bowl again in the match. Fellow opening bowler Tom Harris maintained the pressure at the other end and also picked up a couple of quick wickets to reduce Hayling to 25 for 4 after 10 overs. Change bowler Simon Dean (2 for 15) and Tom Saunders (1 for 22) continued to make inroads but Gorvin was batting well as he tried to hold the Hayling innings together. Gorvin found some support from Poole (22) in a 59 run partnership. He was running out of partners when he was eventually bowled for 56 by young Toby Mills (1 for 47). Tom Harris (3 for 22) then returned to finish off the innings and his excellent spell and leave Bashley comfortable victors by 116 runs.