Bashley (Rydal) II 277 all out
Fareham & Crofton 153 all out
Champions Bashley travelled to Fareham and were surprised to be asked to bat first on what proved to be an excellent batting surface but soon lost Alex Turner for 12 in the 8th over. Skipper Pat Lewis joined James Turner and these two added 76 in 14 overs before Turner was bowled for a well-crafted 40 from 53 balls to take his seasons tally to 467 runs at a healthy average of 42. Lewis followed shortly after for 40 to leave the visitors on 120 for 3 from 26 overs. Patrick Holly and the in-form Arno Hattingh began to increase the scoring and took the score to 222 before Holly was caught and bowled for a run a ball 54. Hattingh was scoring freely before being bowled for 64 off 43 balls including 10 fours and a six. Chris Vaughan (14) was one of three run outs as the innings closed on a powerful 277. Hattingh finished with 378 runs at 47 with the other main runs coming from Sam Stroud (333 at 83) , Alex Turner (332 at 30) and Pat Lewis (291 at 26).
The home side's reply started badly when Sean Read trapped the prolific Wimble LBW to the first ball of the innings. Read ( 2 for 32) bowled with hostility but not much luck, having three catches dropped, but did bounce out the dangerous Sahu for 29 and when Tim Taylor (1 for 20) dismissed Heiniger they were 50 for 3 from 14 overs. Alex Turner (1 for 18) and Vaughan bowled tidily to increase the required rate to nearly 8 an over at the half way point in the innings. This provided the opportunity for Lewis to introduce Ethan Baker , at 13 years and 9 months, the youngest (and smallest!) player to ever play Southern League cricket for Bashley into the attack to partner 18 year old Sam Presland. Baker bowled 7 overs of flighted leg-spin only bowling one ball that missed it's intended line or length in a superb spell and fully deserved his figures of 3 for 22. Presland took 1 for 28 in his 7 overs before Baker was replaced by the slightly older Neil Taylor ( 2 for 14) who once again conned out the tail with the aid of a good catch by Baker to complete a comfortable 124 run win. Taylor finished with 19 wickets for the season at 13 each, Sean Read (22 at 17) and Sam Stroud with 36 wickets at 11 each was the leading wicket taker in the league.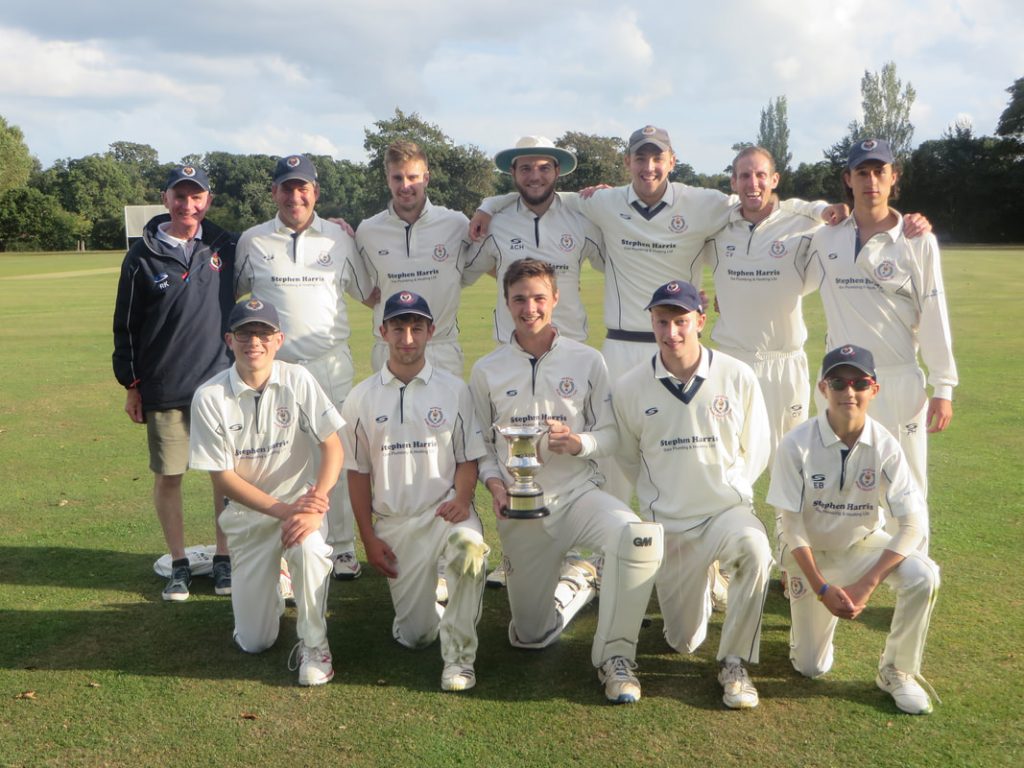 Bashley 2s – League champions