Hythe & Dibden 99 all out
Bashley (Rydal) II 101 for 1
The visitors unsurprisingly won the toss and chose to bat first on a BCG belter on the hottest day of the year. They started well adding 38 before George Wilson (1 for 11) dismissed Matt Young. Skipper Tom Richards and Bashley old boy Tom Gates advanced the score to a promising 71 for 1 but the introduction of 14 year old leg-spinner Ethan Baker completely changed the course of the match. Bowling with immaculate control of line and length he induced Gates to cloth one to short mid-wicket for a classy 54 from 58 balls with 9 fours. After this the new batsmen were unable to fathom how to play his flighted deliveries and remained trapped in the crease as the ball either hit their pads or clattered into the stumps. A spell of 8 for 15 off 8 overs would have been even better but for 6 wides but these are still the best ever figures for a Bashley player in Southern League cricket. Simon Watkins (1 for 14) ended the innings at 99 from 33.2 overs.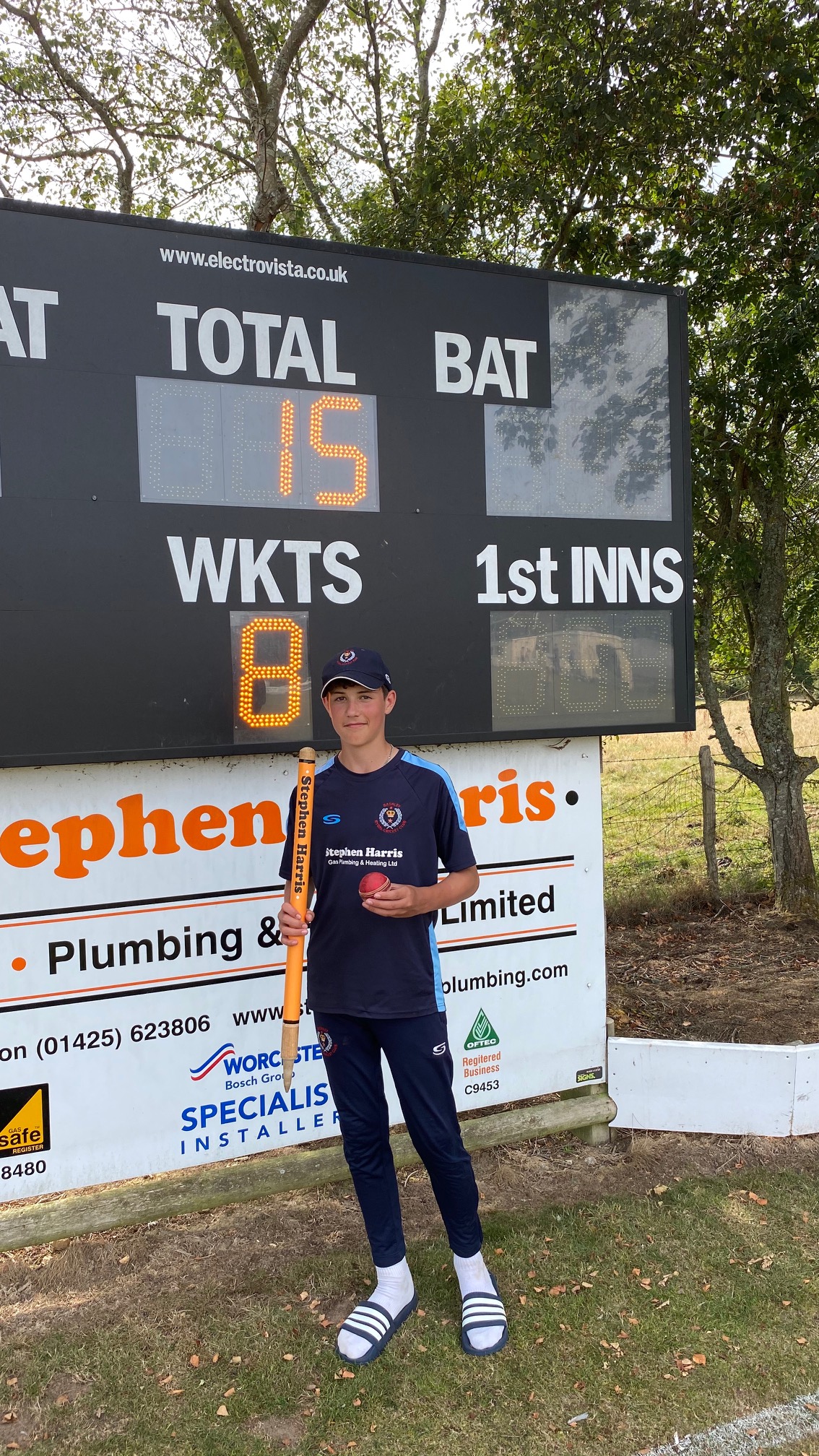 Ethan Baker – 8 wickets
The Bashley reply started briskly with Tom O'Sullivan making a run a ball 12 before being caught at slip by Gates off Tim Ndowora (1 for 21) with the score on 38. This was to be the only wicket to fall as skipper Pat Lewis joined Jacob Gordon at the crease. Lewis once again played some eye catching cover drives to finish unbeaten on 26 but it was Gordon , who appears to be growing in confidence week by week and showed his full range of shots all-round the wicket , who did the bulk of the scoring making 52 off 55 balls with 9 fours as the home side cruised to the win with 21 overs to spare and sets up a vital clash with fellow unbeaten opposition Fair Oak next week.