Bashley Broncos B took on Royal Challenger Sports on Sunday 30th April in the last game of the indoor season. Bashley knew that a win and a few bonus points would see them be crowned champions of Division 2.
Bashley lost the toss and were asked to field first. Bashley made a positive start restricting the opposition to 26-2 after the first 4 overs with both openers, James Edmunds and Jason Eede, taking a wicket each. Bashley continued to keep it tight during the middle of their innings with Sam Scott conceding just 7 runs from his 3 overs. Wickets then began to fall fast with Ryan Taylor taking 2 in his first over and Jason Eede taking the final wicket in the 12th over. This capped a good display from Bashley which saw them bowl out Royal Challengers for 66.
Bashley made a cautious start in chasing down the total. Bashley lost their first wicket in the 5th over when Mike O'Sullivan was caught with the score on 40. Two quick wickets then fell but Ryan Taylor batting through to make a much needed 27 not out. Bashley eventually chased the total in the 9th over.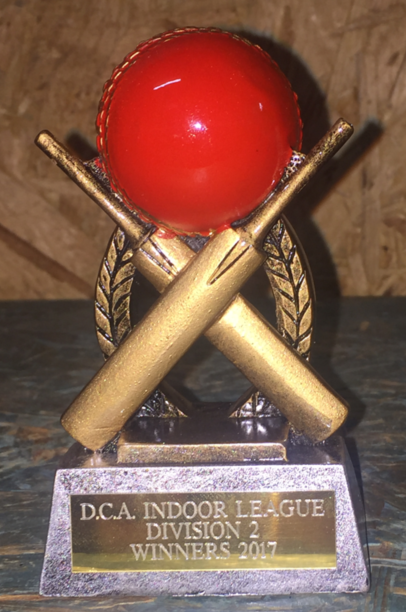 Bashley took enough points from the game to win the league. A big thank you to everyone that played this season and we hope we can have another successful indoor campaign next season.
| | | | | | |
| --- | --- | --- | --- | --- | --- |
| SUNDAY DIVISION 2 | Pld | Won | Lost | Runs/Wkts | Pts |
| Bashley Broncos B | 8 | 7 | 1 | 44.18 | 155 |
| Parley B | 8 | 7 | 1 | 36.4 | 151 |
| Hinton Admiral A | 8 | 6 | 2 | 39.56 | 142 |
| Verwood A | 8 | 6 | 2 | 40.64 | 137 |
| Ellingham | 8 | 3 | 5 | 33.5 | 88 |
| St Georges | 8 | 3 | 5 | 24.37 | 85 |
| Royal Challengers Sports | 8 | 3 | 5 | 22.05 | 82 |
| Ringwood Rhinos | 8 | 1 | 7 | 34 | 47 |
| Bransgore | 8 | | 8 | 14.56 | 29 |